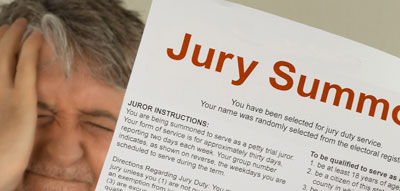 A summons for jury service can create a frisson of excitement or a feeling of dread, depending on your view of the criminal justice system and the extent to which you want to be involved.
For your practice it can be tricky, both logistically and financially, to plan for it.
Courts allow those summoned to request a deferral in case, for example, they have a holiday planned or their work means that they can't be spared. Until fairly recently GPs simply had to cite their indispensability and the Court would waive its summons.
This is no longer the case. I was talking to a GP today who had written back to the Court explaining he was a partner at a small practice and asking to be excused or to have the date deferred; he was told 'no' which meant the practice had just over a month to plan for his absence.
When a GP, whether a partner or a salaried doctor, has been summoned for jury service the practice manager has to look at:
pay for the 'absent' doctor
meeting the cost of a locum to provide cover for the 'absent' doctor.
Although employers have a duty and responsibility make an employee available to attend the Court, most partnership agreements and contracts of employment are silent about pay for the person who's carrying out jury service.
The employer must provide the court with the earnings information and the Court will use this to determine the compensation they will pay to the individual.
Court compensation will not cover your absence
The problem arises in the case of 'high earners' where the Court's compensation comes nowhere near the person's earnings. This applies to the vast majority of GPs and also their key staff.
Would the practice want to continue paying the individual in full?
If so, how can they do this while also paying for a locum?
Most locum insurance policies can include jury service cover but it is crucial to check how the cover would work: policies differ in the scope and extent of cover.
Some policies don't pay for the first few days of the doctor's absence so, if the jury service lasts only for a few days, you get nothing.
Some policies cap the amount payable by the insurer so you can end up out of pocket.
Some policies limit the payment to 2 weeks, even if the jury services goes on for longer.
Practice Cover thinks differently, and ensures that the amount we pay takes all this into account and covers the individual adequately – and leaves the practice with no nasty surprises.
With GPs being less likely, nowadays, to avoid the summons, practices need to look carefully at their insurance to make sure it will perform as they need it to.
For further information or a quotation call Lynda at Practice Cover on 023 8051 3286 This email address is being protected from spambots. You need JavaScript enabled to view it.
The opinions presented in this blog are solely those of the author on behalf of Practice Cover Limited and they do not constitute individual advice. Practice Cover is a trading name of Practice Cover Limited and is authorised and regulated by the Financial Conduct Authority